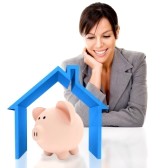 In today's real estate market, homeowners who have decided to move to another property may find themselves sitting with the conundrum of whether they should first sell their current residence or find a new house and then sell their home. Based on their personal circumstances and unique situation, the answer to this question will be different for every homeowner.

This is according to Adrian Goslett, CEO of RE/MAX of Southern Africa, who says there are several elements that could influence the homeowner's decision in cases such as these.
He says these factors could include the financial options available to them, local market conditions and the homeowner's feelings about moving more than once should they have to vacate their current home before the new home is available.
Finance
While every home buyer would ideally like to have the option of buying their next property with cash, most are reliant on banks for finance. Essentially, what this means is that home buyers who are upgrading to a larger or more expensive home may need the equity from the sale of their current home as a deposit.
Goslett says if the home buyer does require the equity from the sale of their home to buy another property, they could sell their house and perhaps negotiate with the new owners that they rent the property back from them until they find a new home.
However, this means that they will be paying occupational rent or that may not be possible if the new homeowners are eager to move into their new home themselves, he says. "Another option is that the seller temporarily stay with family members or friends or at a short-term rental. In this instance, storage facilities may become a necessity."
There are also bridging finance options available to sellers who would like an advance on their home's equity before the money from the sale has come through. Bridging finance is a short-term finance option based on a seller's credit record, the amount of equity available in their current property and the expected cash inflow.
While having the equity readily available is an advantage, the downside is that living in a temporary situation could make you rush into buying another property that doesn't quite meet all the criteria, says Goslett. There is also the chance that there are no properties available that offer what you are looking for, he says. "Perhaps the best option is for the homeowner to stay in their current home while looking for another property. They could then make an offer to purchase their next home subject to the sale of their current home going through."
This way they have time to do their research and find the perfect home that fits all their criteria before making a move, he explains.
In the case where the homeowner does not require the equity from their current home, but can obtain finance for an additional property without selling first, they may find themselves in a situation of being stuck with two properties. This could be fine as a short-term solution but might not work for the homeowner on a long-term basis. In this instance, the homeowner will need to have a contingency plan in place.
Local market conditions
According to Goslett, while there are general property market trends seen throughout the country, most areas are affected by their own unique micro conditions. He says it is never good to assume that because the general market conditions currently favour buyers, that the same will be true for your specific neighbourhood.
Elements such as the type of home, price range and availability of other similar homes in the area will all have an impact on the sale of the property, he explains. "This is where the services of a professional real estate agent with area specific knowledge will be of value. The agent will be able to advise the homeowner how long homes are sitting on the market and how much they are selling for."
He says this is valuable information in gauging time frames and possible equity expected from the sale.
From a buying perspective, the buyer should be researching properties that are available in the areas they want to buy in, looking at all aspects of the neighbourhood and elements that may have an influence on their decision.
Risk and emotion
Whether selling first or buying and then selling, either option has an element of risk involved, so it is important for the homeowner to ask themselves if they would rather sell first and possibly have nowhere to go or buy first and have two bonds to pay until a property is sold?
While the emotional response to these questions is strongly based on finance options and the local market conditions, the homeowner will need to have a plan in place to deal with either scenario, says Goslett.
Source: Property24