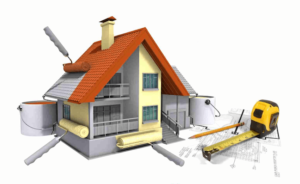 It is difficult to get a sale in an already tough market and it's even more difficult getting anything close to your asking price with so many homes that's also on the market competing with yours.
So what should you do in these (recessionary) times?
Let's look at a few tips and tricks you can do to help the process and eliminate stress.
Front Door
What is the first thing a buyer sees when they come to view your home?  Your front door, If the buyer get the wrong feeling by looking at your worn out door he will definitely have second thoughts about the rest of your house.  Slap some new paint on your door and repair the cracks or anything that needs to get fixed.
Declutter
Buyers need to be able to see themselves living in your house and not your stuff.  Remember whatever is cute to you might not sit so well with a potential buyer.  I would strongly recommend that you remove some of your personal stuff. For example: Your child's drawings, fridge magnets and anything else that makes your house seem crowded.
Simple is Better
If you have turned one of the rooms into a storage room, I would highly advise you to put a bed in there for the buyer to see how spacious the room is.  Even if it's a blow up mattress. Nobody wants to see a room jammed with stuff.  Clean it up to make it look more appealing.
Storage Unit
Rent a storage unit if your spare bedroom, garage or basement is full.  It's quite a big turn off for buyers. The best way to help maximize your space is by renting a storage locker and packing up your stuff. You will appreciate it later, when it's time to move.
House Exterior
The exterior of the house is just as important as the interior of the house. Make sure sidewalks are clean and free of anything that might be tripped over.  Make sure your gutters are clean, your grass cut, dog poop picked up, and the garbage in the trash cans.
A house that's in a good condition will sell better than one that's in dire need of repair.
Fixer Uppers
Please don't try and sell your house as is. If there's anything that needs repairing – do it. If the door squeaks, put some oil on.  If there's a hole in your carpet, remove or replace it. If the paint on the walls are coming off or looks worn out, paint it. Sure you get the picture. First impressions is of at most importance.
Pricing Your Home
Don't be fooled, nobody will pay extra on a house just because they have to have it.  Your house should be the best priced property in your area. If it's not, you're only helping to sell the other properties and you'll be left wondering why yours is still for sale a few months later.  Remember everyones looking for that 'deal'.
Don't price your home on your own, get professionals with the right knowledge to help you, if you price your house right from the beginning you may avoid the dreaded price reduction.
Pre Inspection
Get professionals in and do a pre inspection of your own home.  See if there's anything that you've missed so that you can rectify it before you show it to potential buyers.
Good luck and happy selling.