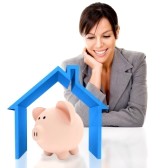 The number of people using a bond originator is increasing rapidly as more people become informed and realize that using an originator is the easiest, least expensive and most productive way of applying for a home loan. 
Due to Originators experience and in-depth knowledge of the banks' requirements, using an originator requires only one set of forms to be completed and thus speeds up the application process.
Originators work electronically and banks are usually quick to process and respond to their applications. 
It is the originator's business to help people to get the  lowest possible home loan rate and to control them through the procedure.
This course to getting property fund is particularly perfect in a difficult economic environment, as banks have turned out to be more stringent in their lending criteria.
Here's a few reasons why its best to make use of bond originator:
All the necessary paperwork is managed for you. You simply need to submit your proof of earnings and bank statements to the originator. They will then setup your application to ensure the process is a smooth one.

You won't need to figure out the different jargons included in your bond agreement because your bond originator will be there to explain it to you.




Applications to multiple banks can be made instantaneously, saving you time and the inconvenience of doing it all yourself.

The bond originator has relationships with multiple institutions, which means that you, as the consumer, have a greater choice.

The originator on your behalf, saving you time and money, conducts follow-ups with banks.

As the customer, you always have the choice. After reviewing the final bond grants from the banks, you decide which one you want to use.

Because originators have strong relationships with all the major banks they are often able to negotiate a lower rate on your bond – which could save you thousands over the term of the home loan.

You won't need to try and figure out all the jargon in your home loan agreement, as your bond originator will explain it to you.
Knowledge and experience of the mortgage originator ensures that they are able to provide the client with a pain free experience and obtain the finance required at the best rate possible.