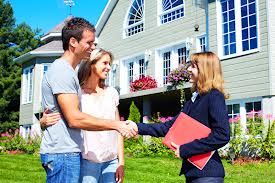 Buying or selling a home is an exciting experience for anyone. The whole process is enhanced by a good real estate agent who knows the ins and outs of the market. But with so many brokerages and agents out there to choose from, finding a perfect fit may be more of a challenge than you expected.
Look for an agent with a wealth of experience in the industry as well as selling homes in your price range. Always check references since the most critical factor is not how many homes the agent has sold, but how many homes were sold with the fewest headaches for seller and buyer.
Once you've selected an agent, you should let them go about their business to prepare for the sell.
Heres what you can expect when working with an estate agent.
Give them a chance to come and take photographs of your property The applicable designs ought to be presented on their office site alongside a decent, precise property portrayal within days of viewing your property. 
Your property should also appear in all the relevant print property publications.  Your agent should arrange a show day or special viewing sessions shortly after meeting with you, and if you're lucky you will get an offer the first time around.
Your estate agent should reveal to you where it's being publicised, what leads are being taken after and what advance has been made on any offers or a deal.
Your agent should provide you with the details of all the people who came to look at your house and what their feedback was. That way you will have the capacity to measure whether your home is estimated accurately or if there is something you could do to lure buyers.
If you don't get any offers following the first show day,  another show day has to be arranged (if necessary). The number of potential buyers that come through by appointment should give you an idea of how invested your agent is.  But please remember that all things considered, a lack of interest could indicate that there are problems with your property, the property market could be flat or both. It's best to try and be fair and give your agent the benefit of the doubt.
If you didn't get any real offers towards the end of a mandate, your agent may suggest that you lower your price or that you should have multiple show days in quick succession.  With this said; Unless it's absolutely necessary you should be cautious when lowering your price. Remember once you lowered your price you can't exactly put it back up. Exercise your own judgement in such circumstances because at the end of the day it's your house and you also have a say in it.
Once you have a solid offer, your agent should be proactive, make sure all the necessary paperwork is in place and keep you up to date at every step of the deal.
Always trust your instincts, it's your house and you need to feel comfortable with the decisions being made.  It's also worth keeping in mind that if you're not happy with the way things are going at any point of the sale process you should contact your agent and meet with them and try to sort things out. If things aren't changed to your satisfaction, it's best that you go your separate ways.
Lastly always remember to have some kind of performance agreement in place which will enable you to back out of an arrangement if your estate agent don't do what they are supposed to do.