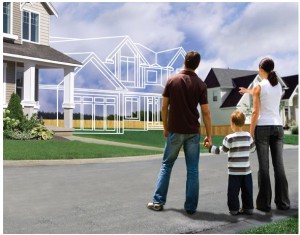 Becoming a homeowner may be a thrilling concept, but the realities of owning a house are not always sunshine and roses – jumping in with your eyes closed could land you in a potentially uncomfortable position.

Thankfully, with a little preparation and honest self-assessment, you can avoid the common pitfalls, not only of the buying process, but of the house hunting process as well.
This is according to Wayne Albutt, the Rawson Property Group's regional sales manager for the Western Cape, who shares his step-by-step guide to ensure you enter the market with your best foot forward.
Step 1: Check your credit rating
Let's face it, there aren't many of us who can buy a house without some kind of financing, but securing finance can be almost impossible if you're blacklisted, have a bad credit rating, or have no credit record at all.
"There are a lot of South Africans who are completely unaware of the black marks on their credit record, and it can be a nasty surprise when you approach a bank or bond originator with an agreement of sale and discover that no-one is interested in giving you a loan. If there's even a one-in-a-hundredth chance that your record isn't spotless, do yourself a favour and check it before you set foot in your first show house.
"That way, if anything is wrong, you can take the time to clear your name and rehabilitate your record before falling in love with that perfect house," says Albutt.
He says one of the easiest ways to check your credit record is to visit a bond originator that can take you through the whole process, as well as give you a good idea of the size of the home loan you might qualify for – a useful thing to have later on in the process.
Step 2: Consider whether buying a home is the best option for your current and future lifestyle
Albutt says once you've ascertained that financing is possible, it's time to consider whether buying is a good lifestyle choice for you.
"Owning property can be rewarding, but it's a lot of responsibility, and it's not the right thing for everyone at all stages of life," he says.
"Think about your current lifestyle as well as where you'll be in five or ten years' time. If you're likely to move jobs, move cities or be away for large parts of the year, the flexibility of renting may outweigh the benefits of owning."
Albutt says renters are also protected by things like the CPA and the Rental Housing Act, and have minimal maintenance costs and responsibilities.
However, what renters don't have is the freedom to do whatever they want with their space, and the satisfaction of knowing that their monthly housing costs are contributing towards a valuable asset.
"The biggest thing to remember is that buying a house is long-term commitment. If your property stops suiting your needs, you can't just up and go – at least not without possibly taking a financial hit," says Albutt.
"If you can't be sure your life isn't going to change dramatically in the near future, property ownership might not be the best decision for you at this stage."
Step 3: Understand the costs of owning a home
If you're certain that buying will suit your lifestyle, you'll need to consider whether it's affordable in the long run, which means understanding the ongoing costs of owning a home.
This includes home loan repayments, rates and taxes, and the inevitable maintenance that will need to be done, as well as the cost of turning someone else's house into your home.
Albutt says bond repayment calculators are widely available online, but a bond originator is the best bet for finding out what size mortgage you'd actually qualify for.
"Don't rely on that old rule of thumb that you'll qualify for bond repayments up to a third of your income. Everything depends on your monthly net surplus," he says.
"It's also important – especially now – to over-budget for things like bond repayments. Interest rates are rising and you will be paying more in future. Rates and taxes are also likely to increase far above inflation for the next few years – I'd predict at least 20% in the next two years, and up to 100% in the next five in the average property sector."
As for maintenance costs, Albutt says you should set aside a minimum of 1% of the value of your home per year – that's R10 000 a year on a R1 million home – to increase or maintain the value of your asset. An average of as much as 3% to 5% annually may even be required.
Step 4: Understand the costs of buying a home
Being able to handle the costs of ownership is one thing – the costs of buying are another.
"The upfront costs of buying a property generally have to be paid out of pocket – you can't just add them to your home loan," says Albutt.
"A lot of people think it's just the deposit they need to save for, but there are some other significant costs to keep in mind as well. For example, attorney's fees are often a surprise to unprepared buyers."
On a R1 million house with a R900 000 home loan, transfer costs, including transfer duty, Deeds Office fees, attorney's fees and incidentals, currently total over R26 000. Add to that home loan costs of nearly R22 000, and a 10% deposit, and you'll need at least R150 000 cash on hand to make the purchase happen.
Albutt says for a R2 million house, those numbers more than double. The easiest way to budget for these costs is to use an online transfer cost calculator. This will be fairly accurate, but not a guaranteed figure.
Step 5: Draw up a wish list
Albutt says if you've successfully made it through steps 1 to 4, chances are, buying a house is a good decision for you. Now, you get to move on to the fun stuff: drawing up a wish list of what you want in a home. However, be careful how you do this – most buyers get it wrong.
"Try to stay away from physical things when drawing up a wish list, and focus on the 'why's, not the 'what's. For example, don't write down 'high ceilings' when what you love is old-style homes or a feeling of space. Don't write 'big kitchen' – write 'I love to cook'."
Albutt says a good real estate agent will be able to interpret these elements in order to show you homes that will not just accommodate you, but support and enhance your lifestyle and that of your loved ones.
"Don't forget to consider the needs and preferences of everyone that will be sharing your home. It's important that you get to know your partner's tastes and requirements, and find a compromise that works for you both," he says.
Step 6: Find a suitable area
While aspirations are important, Albutt warns against being tempted to go over budget in order to get into your first-choice suburb.
"It's better to compromise on area than to overextend yourself financially, but it's up to you whether you'd prefer the best house in a lesser suburb or the worst house in a better suburb," he says.
"While the latter is almost certainly a better investment, the former may provide a better lifestyle, and you'll need to weigh up which of those is more important to you, or find a balance somewhere in between."
Step 7: Select three real estate agents to work with
Having chosen your ideal suburb or suburbs, it's time to get in touch with a few real estate agents who are active in that area.
Albutt says choose one primary agent, and another two secondary agents to encourage healthy competition and a motivated search. However, don't just sit back and expect your chosen agents to come to you. Be proactive when it comes to getting updates, as South African agents are more used to serving sellers than buyers, and might need a friendly nudge every now and then to prioritise your search, he says.
Albutt says by following these seven steps, you should be well on your way to finding a property that will make you happy, but if you're still in doubt, take some time to sit down with an experienced real estate agent and run through any concerns you may have.
"Buying property doesn't have to be scary if you've done your homework."
He says as for the next step: don't look for a house, look for a home.
Source: Property24